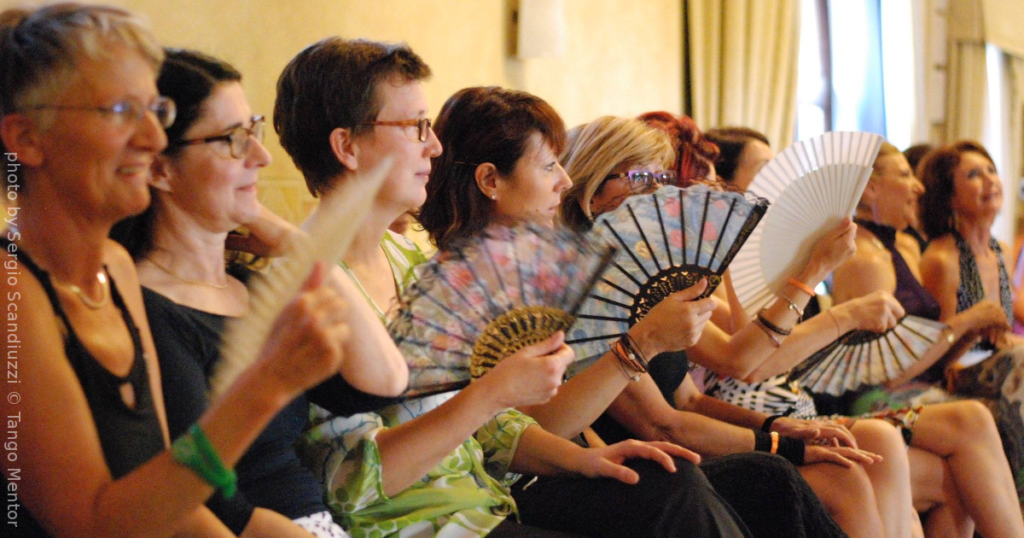 Tango starts in the eyes: with cabeceo/mirada. The magic of the dance starts even before you step on the dance floor. It starts with the way you invite or accept the dance.
Remember the videos of Osvaldo Zotto and Mora Godoy showing tango sequences? In the very first one, in the very opening the narrator says:
– The tango as a dance is a game of seduction and like any game of seduction it begins in the eyes, in a glance and has very clear rules.
But it is not only because it is a game of seduction. It is, even more, about having a smooth experience. In this post I am going to give you five reasons why should you respect the cabeceo rule.
The story I am about to tell you seems so unbelievable that some might think that I am inventing it. And I do not blame you: if I was you, I would have not believed it as well. But, trust me – it happened!
She was a gorgeous girl and very elegant dancer. I wanted to dance with her. It was a small marathon in the countryside (I will not name the country because I want to protect the privacy of the dancers). The event with less than 50 people, so there was not much choice for her. I knew it would not be hard to get to her. People in this community were not using cabeceo/mirada, but I decided to find her eyes anyway. Cabeceo is so natural – sometimes it works even without knowing it.
She was sitting behind the table with her boyfriend. I stared at her, she looked back and smiled. I did the nod… and we were on the dance floor, dancing a wonderful vals. She was even better dancer than I imagined – it was one of the best dances I had that year. After the dance I accompanied her to her table, said hello to her boyfriend and went behind my laptop, continuing my DJ set.
My face was close to the computer screen deciding what tanda should be next – so I did not noticed a tall man standing near to me.
– Did you liked that dance with her? – her boyfriend asked.
It was dark so I could not see his face. I did not understand why he is asking me this. Is he hostile? Is he friendly? What this means? What is the right answer?
– She is very very good dancer – I answered.
– Than, would you consider to dance with her again? – he asked again.
I was confused. The guy came to invite me to dance with his girlfriend again. OMG! It is so awkward.
– Of course! I would love that – I answered with a smile.
What is so funny is that something similar happened again that evening. A guy approached me and asked me to dance with his wife. She was a great dancer as well.
Later that night, when I talked about all this with a friend, it all become clear to me: these people are unfamiliar with cabeceo/mirada rule. This means that the girls do not have many options to invite people for a dance. If they want to dance with someone, they have to get up and approach to invite – which is super-uncomfortable for the most of the girls. So, they are asking someone close to them to do that for them.
This experience revealed to me that the cabeceo/mirada rule is much more important for the ladies than it is to the guys – it gives them equal chances.
Cabeceo/mirada rule is a part of the tango culture which is not only a symbolic ritual. The etiquette is a shield by which clever people protect themselves from unpleasant situations. The following five points will give you clear picture how the cabeceo/mirada rule will protect you. So, why cabeceo?
1. Because it is a sign of respect – If I have to summarize all tango Codigos in just one rule it would be 'Respect – give it, to get it!'. All tango rules are about respect in order to avoid unpleasant situations*. Why cabeceo means respect?
*I plan to write a separate article about tango Codigos. Subscribe to my mailing list not to miss it!
Cabeceo/mirada rule means respect for both partners: for the one that initiate the 'exchange' and for the invitee as well.
It is very unpleasant to find out that someone danced with you out of politeness, a so called 'duty tanda' or 'duty dance'. This is so devaluating. It means, 'I do not want to dance with you, but I will because I do not want to hurt your ego'. Every person with self respect should avoid it.
Please, do not consider the tandas with the beginners as a 'duty tandas' – they are just 'social responsibility'* tandas that help their own development, and the development of the community. In fact, for me personaly, some tandas with beginners are more enjoyable than dancing with someone more experienced.
*I plan to write a separate post about how can you help your tango community. Subscribe to my Newsletter not to miss it.
You can avoid 'mercy tandas' by making only discreet invitations that give space to the other person to refuse. Trust me – if he/she wants to dance with you, she/he will notice you even without you being aggressive and pushy.
If someone has space to decline your invitation, the dance has bigger value. Start your tandas in a right way.
Making respectful cabeceo/mirada protects the invitee as well. It is very unpleasant to decline someone who has approached in front of everyone. I have seen ladies accepting dances even with some people who 'torture' them, just not to be considered cocky and arrogant. Giving space to the lady to decline means that you show respect of her willingness to dance with you. Tango is not just a dance, when you embrace someone it is very personal and the silent conversation during the dance is very intimate. Someone who is pushed to dance with you will not open up easily – so the dance will not be that good.
Check out my post about the intimate nature of tango
And yet, despite all this, there are people (men specially) who still do not make cabeceo in a respectful way. Most of them are the bad dancers, who would not get dances with a 'normal' respectful invitation. Others are those who do not care how others feel during the dance. I do not know, maybe they consider tango a sport where two people dance separate dances.
Most common justifications for not using cabeceo/mirada, that I get from people are 'we are friends, why should I make a cabeceo?' or 'we are a small community, we all know each other'. This means that people consider that cabeceo should be used only between strangers, only with people we do not already know. That is wrong. The truth is rather opposite – you should insist on cabeceo with the closest people because you respect them more than the strangers. I meet a lot of couples who invite their loved ones with cabeceo only. The closeness is not an alibi for disrespecting people.
But why would they not want to dance with you? Even those who usually like to dance with you sometimes have their reasons, and they are not always connected with you. Did you asked yourself did he/she wants to dance that tanda with someone else? Or, did he/she does not like this orchestra? Or, she/he needs to rest one tanda? Do not put your people against the wall.
2. Save everyone from embarrassment – Discreet invitation also protects you from embarrassment in front of everyone. The cabeceo/mirada rule evolved as a way that makes the refusal with the least unconfortibility. Imagine what it would mean if you (no matter are you a male or a female) approach someone and in front of everyone get rejected. How shameful would your walk back to your chair be? And how uncomfortable would it be for the other side to refuse in front of everyone. So, guys, use cabeceo – do not devaluate yourself in front of everyone by getting publicly rejected.
I have here one more recommendation for the ladies. He invites you, you accept with a nod. What's next? You keep your eyes on him and stay still. Do not approach, do not stand up, do not move. Just keep your eyes on him – it is a gentlemens' job to come to your table and offer his hand. This is the only way to know that the cabeceo was for you, and not for that lady that sits behind you. Oh, how many times I made a cabeceo and when I approached all four ladies at the table to stood up. Very unpleasant situation for everyone.
Keeping your eyes on the man while he approaches also helps him to be sure that you accepted his invitation, not from the guy who was standing behind his chair.
3. Because it makes women equal – We say 'the men invite', but that is not entirely true. That is an illusion that can be seen only by those who do not understand how the cabeceo/mirada rule actually works.
Woman during the invitation is not a passive object who needs to be 'picked up' like in a supermarket. She is active and she can also chose whom to invite. Her part of the equation is called mirada (from the Spanish word 'mira' = look). Ladies, chose the one whom you want to dance with and keep your eyes on him – that is mirada. When the desired partner notice that he has been watched he knows that she invites him to dance with her – there is no other reason why she would watch him continuously at the milonga. Now, he has to decide will he dance with her and, if yes, to make that small nod with the head called 'cabeceo'. In this process often men are the passive/invited side.
This is why women who want to dance should know that if they need more and better dances, they should be active. They should chose and make miradas – to avoid situations like the one I described at the introduction of this post. This way they will sometimes also avoid the frustration of going on a milonga and not getting enough or dances with a good quality.
4. Because it makes strangers equal – One of the magical things about the dance we love so much is that it makes the tango communities – open communities. Whenever you go to a milonga you can dance with complete strangers and have a good time. You do not need to a local friend who would introduce you to them… Hm. It should be like that, but unfortunately, it is not always.
Let me explain this point with a short story. It was a warm summer night and after a day at the beach we were happy that we will visit a local milonga and dance until the morning. We put our shoes and few pairs of reserve t-shirts in our backpacks and went to the center of the town excited about this new experience.
The milonga was nice. The air conditioning was great and I was happy that I will get those reserve t-shirts back unused. I danced the first tanda with one of our girls, than I started to dance with the locals. The first was an older lady who was not so good dancer, but I was a guest, so I did not wanted to be too choosy. The second one was a beautiful young lady who was sitting next to out table. And then… No one. Girls were talking between each other, looking down – but no one looked at me. Not a single dance all night… others from our group also. The locals danced between themselves ignoring us completely. And then, a local guy came to our table and asked one of the girls for a dance.
– Would you like to dance this tanda with me? – he said.
It was not cabeceo, but she was happy that someone finally invited her. I was happy also. I finally understood what was the problem. In their community the cabeceo/mirada rule was completely unknown. The only way we would have a chance to dance was by going to the tables around to say 'would you like to dance this tanda with me?'. Otherwise, they would have danced with their friends and other people in their community, people who are close to them and whom they all know by name.
Using the cabeceo/mirada rule makes impossible the community to close in itself. It makes dancers more open to strangers and people who do not otherwise belong to their circle.
5. Because the tango starts in the eyes – Does this sound romantic? Yes, because it is. But it is also much more than a romantic reason why should you use cabeceo/mirada.
When you dance tango you are connecting with a person. Tango is, before everything else, personal. You should dance with the music, but you are dancing for the partner. You are dancing with other couples on the dance floor, but you are dancing for your partner. It is because the communication is the primary goal of this journey.
Every communication is better if your partner trusts you. Tango is not an exception. So, never forget – the first step towards trust and be trusted is looking at his/hers eyes.
It might be a symbolic step, but the effect it has on the level of the communication is very real. What happens in the tango is between the two people dancing, no one else. Inviting with the cabeceo/mirada, creates that connection which excludes everyone else in the room and creates that bond between the two. And it is done in a perfectly discreet way.
Sometimes the respectful dancers recognize others of their kind, just by noticing that they are makig cabeceo/mirada. This is a kind of a password between them.
If you liked this post please show your appreciation by sharing it with your friends. I do not imply that I have the ultimate knowledge about the tango culture – if you have different view or opposite experience, please comment or write to me a private message.
If you need some help with getting smoother experience on milongas please consider my mentoring programs. I can help you! Check out my Products and services or just submit to my Dancers mentoring program.