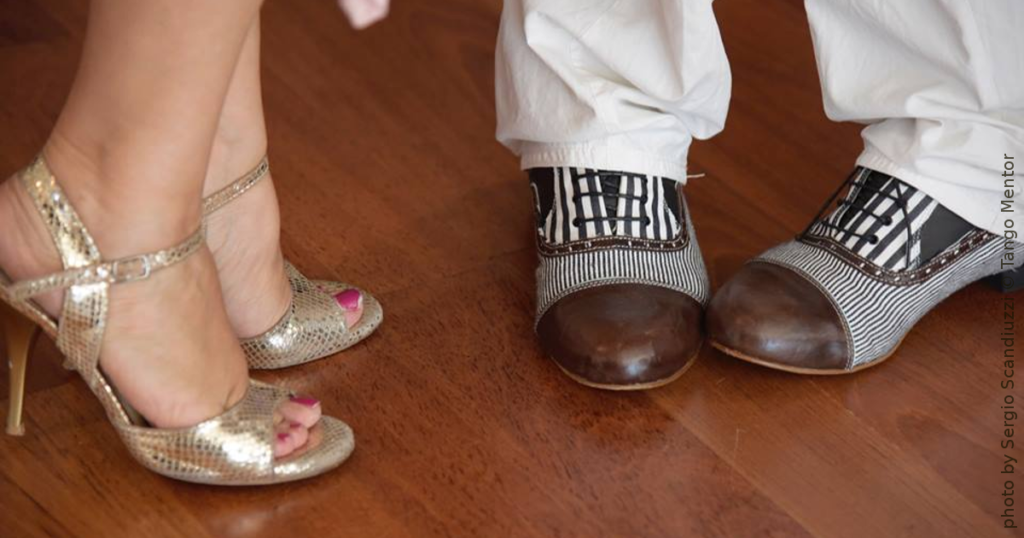 Practice less – there is a much easier and much joyful way to improve your dancing. This post is written primarily for the male dancers, but I am sure ladies can benefit from it as well. In order to learn more, while practicing less, you will have to dance a lot. I mean a lot! The more the better. If you have milongas in your community every day, and you have time, be there. Dance!
Subscribe to get access to my best tango tips!
Tango dancers are like airplane pilots – in their license it is not written how many years since they got their license, but how many hours they spend flying. If you are dancing tango what matters is how many hours you spend on the dance floor.
He was a tall German guy, quiet and very polite. He was certainly over 60.
"Wow!", that was all she said after the dance with him.
Her boyfriend and I were curious why she was so amazed. I mean, we didn't notice that he was doing something special. But, she told us a completely different story… Well, she didn't! She just told us that he was doing something special, but she couldn't explain what.
"But he does nothing. Just walking and some small sidesteps," we argued.
"Yes, he does… and they are amazing!" she smiled.
Later on, we find out that he was a very experienced dancer. He had just one year of tango classes in the beginning, but he has traveled to tango events and dances with top dancers almost every weekend for the last 20 years.
Yes, you can become a good dancer just by dancing more, I concluded.
In my last post I gave advice to the male dancers that they should dance more and practice less. In this article, I will give you some guidance that can help you learn more just by dancing more.
1. Polish your moves – Dancing makes it perfect. The more you dance the smoother it gets. Whenever you dance at milongas use just the moves you already know. Doing so gets you two benefits: first, by constant repetition, you learn your moves better; and, second, by avoiding new moves, you avoid being indecisive and making mistakes.
Dancing only the steps you are comfortable with will make your style simple and clean. Trust me, this way the ladies will like your dancing more.
The ambition to be creative and trying experiments is the biggest enemy of every good dancer. Of course, there will be a time for you to express your creativity, but milongas are not the place.
The non-professional dancers (milongueros, those who are social dancers) are not artists – their artistic ambitions usually end up as very bad dancing. Rarely among us are the super-talented guys who have the abilities to become tango artists – and they belong to the stage. We, the mortals, should stick to our guns and dance simply, focusing on what really matters – the enjoyment of connection and musicality.
2. Conquer your style – The repertoire you have, the steps you already know are your territory. Be the king: rule with confidence.
Know a few steps, but know them well. Dancing with few steps does not mean being boring.
When dancing a lot, you discover variations in the moves you do. In time you will learn to add different 'flavors' to the same steps. Just like we do with the words: you can say the same word with different emotion and it can mean different things. So, if you add variety in the way you use the same steps – simple dancing should not feel simple at all.
Knowing the variations in the ways you execute the same moves will make your dancing beautiful, no matter if you are with a beginner or an advanced dancer. Men who are watching you dancing will not understand what you do: because when we watch most of the time we see WHAT people do. On the other hand, the ladies in your embrace have their ways of feeling you. They feel HOW we do things.
3. Baby steps – Do not bite off more than you can chew. We all want to learn more and learn fast. As a result we end up with material we can not learn without spending hours of practicing. That is the nature of learning new movements: the more you repeat a move – the better you becoming at executing it. Your neural connections are being strengthened and you do the moves with less focus and effort.
Our brain does not ask if the movement we learn is correctly executed or not – it imprints the way we do it. Later on, when we learn something wrong, it is much harder to un-learn it. This is why I always insist that my students learn slowly, to take just small steps. In time, their knowledge will explode, they will learn much faster than others who tried to take big steps.
So, my advice for learning by dancing in milongas is – take it slow. Add small adjustments, little additions to your already existing repertoire. Follow your gut feeling and you will end up creating a unique style that will express your personality.
4. Use your imagination – One of the most underrated ways of learning is by watching. Using the brain's mirror neurons we can accept new knowledge almost the same way as by practicing it ourselves. Studies showed that basketball players practicing three point shoots had similar improvement to the ones who just imagined that they practiced.
How to use this in your dancing? When watching videos determine what style you want to adopt for what kind of music. Say to yourself "I want to dance vals as Tete" and watch him dancing valses. Next time when at milonga and dancing vals try to dance like he does. Of course, you will stick to your old repertoire and your dancing will basically be the same, but there will be something more. Namely, you will start adjusting your musicality and your movements to be more similar to what Tete does and in time this will develop a completely new approach to your dancing.
5. Dance in your head – Dance in your head whenever you have a chance. I do it before I sleep. I close my eyes and I dance in my head. I imagine I am at a milonga with my favorite dancer and I dance to some of my favorite orchestras. I use just my repertoire as much as I can, and sometimes I feel how I need to add something new to interpret the music better. This helps me determine what new skills I need to develop.
This trains your brain and expands your musicality. Later on, when you are at the milonga, some of these ideas for musicality will influence your movements and, as a result, you learned just by imagining.
Was this article helpful? Please help me by sharing it with your friends on Facebook, Twitter or by sending it in a private message.